Curiosities
Source: zestradar.com
Some people like to express thought makeup, some through hair color, some through meticulously chosen outfits or fun prints on their clothes, but since minimalism has been in trend many are choosing to express their individuality through well-picked accessories. That might be a hat, a fun pair of shoes or perhaps a handbag, but what about brooches? Have you considered this option? It's just a small detail but it can completely transform your outfit and show off your unique tastes and interests. Brooches used to be such a popular accessory in the past and it looks like they're coming back, but in a transformed, modern way that is able to fit in with your style.
There are many different kinds of brooches out there to choose from but today we want to talk about brooches made by a Russian artist that goes by the name
Fistashka.Art
on Instagram. She has a truly unique style and generally makes embroidery or beaded brooches. Both kinds are generally quite colorful and incredibly detailed. They look almost as mini paintings that you can wear as an accessory. These are available for purchase on Etsy, so if you're interested – you can find a link to the store in her Instagram bio. In the meantime, here are our favourite brooches that Fistashka.Art has made so far.
1. Get ready to see a lot of Van Gough brooches because it seems like it's the artist's favourite.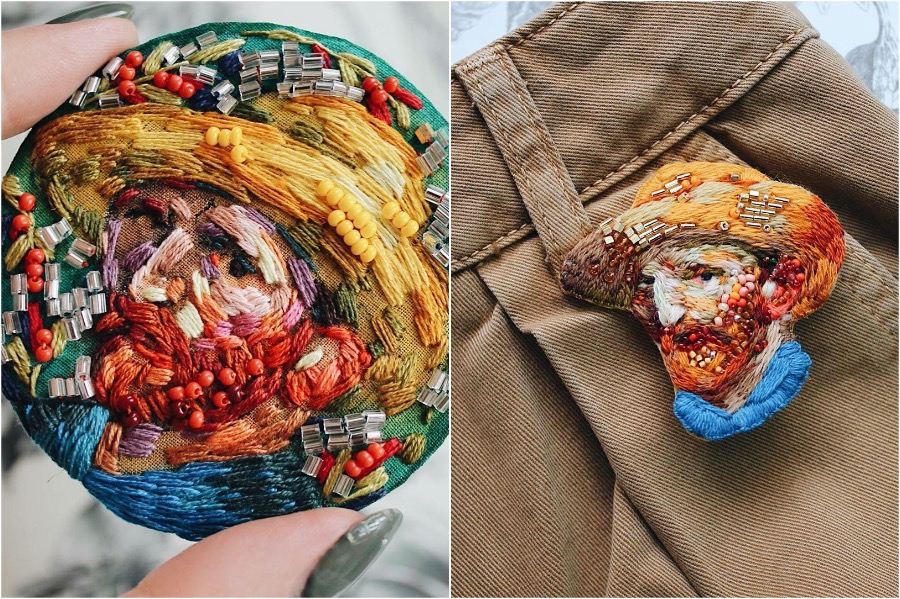 2. Frida is also heavily featured on her Instagram and we love every single version she's done so far.